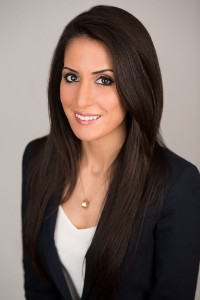 Dr. Sara Samii completed her Bachelors of Science degree majoring in General Biology at the University of British Columbia. With her strong passion for health care, Dr. Samii went on to obtain a Bachelor of Vision Science, as well as her Doctor of Optometry degree at Nova Southeastern University in Fort Lauderdale, Florida, receiving honours in all years of her clinical training.
She went on to complete an Ocular disease Externship at the Fort Lauderdale Eye Institute, and Eye Centres of South Florida where she received extensive training from Ophthalmologists in treatment and management of ocular diseases, as well as co-management of LASIK refractive surgery and cataract care. Since her clinical training, she has acquired experience and developed special interest in ocular disease and specialty contact lens fitting.
Dr. Samii is very passionate about providing comprehensive eye care to those less fortunate in countries where such care is a luxury. She was able to volunteer and gain invaluable clinical experience in Mexico in 2013; that experience was so invaluable that she plans to continue providing charitable care in the future.
As an active member in her community and professional networks, Dr. Samii is always seeking new advancements to better serve her patients. She is an active member of the Canadian Association of Optometrists, the College of Optometrists of Ontario, and the Ontario Association of Optometrists. She is fluent in English and Farsi and can perform eye examinations in both languages. Her interests outside of the office include keeping physically fit and travelling.
Bachelor of Science (Major General Biology), University of British Columbia
Bachelor of Science (Major Vision Science), Nova Southeastern University
Doctor of Optometry, Nova Southeastern University
Dr. Siva Sivalingam completed his Bachelor of Science in Biomedical Sciences with honours at the University of Waterloo and completed his Doctor of Optometry degree with honours from Southern California College of Optometry. He completed internships in hospital-based optometry at the Los Angeles VA Medical Center and Beverly Hills Cedars-Sinai Medical Center. Other internships at private eye care clinics throughout California allowed him to improve his skills in his special areas of interest including contact lenses, LASIK and other refractive surgeries, as well as diagnosis and treatment of ocular diseases. He has practiced in California and Minnesota as well.
Dr. Sivalingam is a member of the Beta Sigma Kappa International Optometric Honor Society. He has volunteered at the California Health Care Foundation to provide diabetic retinopathy screening for the under privileged community. He wishes to continue to provide other critical eye care to underserved communities through the SEVA foundation. He is a car enthusiast, enjoys road trips and loves spending time with family and friends. He is fluent in English and Tamil and can perform eye examinations in both languages.
Bachelor of Science (Major Biomedical Science, Minor Biology), University of Waterloo
Doctor of Optometry, Southern California College of Optometry (Marshall B. Ketchum University)
Dr. Pooja Desai grew up in Mississauga and did her bachelors at McMaster University. She received her optometry degree from the Illinois College of Optometry in 2021. During her clinical rotations she focused on specialty contact lenses, myopia control for children, dry eye treatment as well as ocular diseases like glaucoma and macular degeneration. Throughout optometry school she has been on the executive team for the Canadian Association of Optometry Students as well as the president in her final year. Dr. Desai also enjoys running, hiking, dancing and spending time with family and friends.