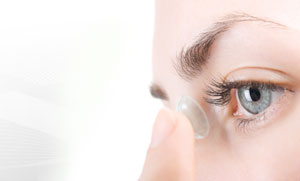 At BCC Optometry we have the very latest in contact lens brands. Our doctors will conduct each patient's assessment and contact lens fitting personally which will allow them to ensure that you have the correct prescription for your contact lenses. We know that it can be difficult to learn to adjust the changes needed to wear contacts which is why our friendly and knowledgable staff provides training so you know how to wear your new contacts correctly. Our prices are competitive which allows our patients to have contact lenses at a reasonable price.
CONTACT LENS FITTING
With our doctor's knowledge of the most recent contact lenses that have come onto the market, we are able to conduct a contact lens fitting with the utmost accuracy. Before we start doing a contact lens fitting consultation, one of our Optometrists will begin with a comprehensive eye exam. Your doctor will work on determining an accurate prescription for your eyes and then confirm that you are indeed a candidate for wearing contact lenses. The Optometrist will adjust the prescription in order to determine whether or not you require any corrections for astigmatism, near vision and/or far vision or other factors that relate to poor eye health. After this discussion, the Optometrist will be able to better understand which type and brand of lens will work best for your eyes and visual needs.
Often our office will have a trial version of your contact lens so that you can test them before purchasing. We like our clients to wear the lenses for at least a week prior to finalizing the prescription. If your Optometrist finds that the particular contact lens brand is not a good fit for you, other brands and trials will be given until perfect vision and fit are accomplished. Finally if both you and your Optometrist are happy with the contact lenses, the prescription will be finalized and an order submitted.
CONTACT LENS MODALITIES OFFERED AT BCC OPTOMETRY:
Daily lenses, bi-weekly lenses, monthly lenses, or conventional lenses.
Sphere, astigmatism, mono-vision, multi-focal, and color contact lenses.
Gas Permeable Lenses (RGP) including sphere, astigmatism, bi-focal, and multi-focal options
INSERTION AND REMOVAL TRAINING
For all our patients who are new to the contact lens experience, lens insertion and removal training is a service that we provide to ensure that you get the best experience and results from your new contact lenses. The knowledgeable and friendly staff at BCC Optometry will assist you by giving clear instruction that allow you to leave feeling confident in knowing how to insert, remove, care for your new contact lenses.
Below are tutorial videos on how to insert, remove, and clean your lenses* (*for biweekly or monthly contact users). Daily Lenses should be disposed of at the end of your day. 
Order Contact Lenses Online!
If you are an existing patient, or have a valid Contact Lens prescription within the year in Canada, start ordering by filling in your information below!